Our programs and services are funded through a variety of sources, including government, memberships, donations, and fundraising initiatives.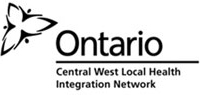 The Central West LHIN plans, funds and integrates local health care services in Brampton, Caledon, Dufferin County, Malton, Rexdale and Woodbridge.
Click here for the Service Accountability Agreement



The United Way of Peel Region provides core ongoing funding for Youth Net, Mental Health Literacy & Short Term Community Support.




The Region of Peel provides funding for Peel Outreach Services and Adult Mental Health Service Coordination.



Service Canada funds our summer students supplement, which enables us to hire summer students for our programs. These students are an integral part of our program teams.