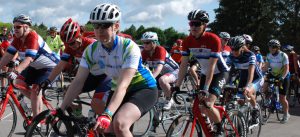 On Sunday, June 24, hundreds of cyclists and walkers will take to the Caledon Hills for Ride Don't Hide, a community fundraising bike ride and walk for the Canadian Mental Health Association Peel Dufferin.
Now in it's 5th year in Caledon, over 300 cyclists, walkers and their families are expected to once again tackle 4 picturesque cycling routes.  New for 2018, we have added a 5km or 10km walk along the Caledon Trail to raise awareness, fight stigma, and support CMHA Peel Dufferin's youth mental health and awareness programs.
Over the last four years Ride Don't Hide funds have supported our Youth Net program – helping to provide a safe space for young people to talk about their mental health, substance use and anxiety. Last year alone Youth Net reached over 5,000 young people through workshops, wellness displays and in-school presentations, ensuring youth know where to find help when they need it.
Date: Sunday, June 24, 2018
​Location: All routes will leave from the Lloyd Wilson Centennial Arena (15551 McLaughlin Road, Inglewood, ON L7C 1J5). The closest major intersection is McLaughlin Road and Olde Base Line Road.
Registration: The old adage, the more the merrier, has never been more true than at Ride Don't Hide! Invite your friends, family, and colleagues to register and ride alongside you for this amazing community bike ride. We promise the more people you bring, the more fun you'll have! Registration is available online here, or you can register in-person on the day of the ride. 
Routes and maps: Ride along on one of our four scenic routes throughout the Caledon Hills designed to accommodate cyclists of all skill levels. Take a look at the GPS maps (Ride with GPS) of our routes and view important information such as elevation, satellite imagery and more. 100km route / 50km route / 25km route / 20km (trail ride) route

We have a route for you! Ride on road, on trail or walk the trail.
100 Km Ride: Century Challenge – A challenging road ride for experienced cyclists with steep climbs and fast downhills combined with the picturesque scenery that is uniquely Caledon. (25 km/hr – 4 hrs to complete this route)
50 Km Ride: Caledon Challenge – A challenging road route offering intermediate cyclists an opportunity to enjoy the beauty of the hills of Caledon. (16.5 km/h – 3 hrs to complete this route)
25 Km Ride: Caledon Quarter – A novice-friendly road route. If you prefer a shorter ride on the road this one is for you. (10 km/h – 2.5 hrs to complete this route)
5km, 10km or 20 Km Ride: Family Trail Ride – Choose your distance for this traffic-free ride along the beautiful Trans Canada Trail System. Suitable for all ages and abilities, there is lots to see and do as your family explores this trail system. Don't forget to stop and smell the flowers.
5km or 10km Walk for Hope-Walk for Life – A traffic-free walk for all ages, abilities and pets along the beautiful Trans Canada Trail System.
Starting times.
Registration/Check-in
7:00 am: 100 km
8.30 am: 50 km
9.30 am: 25 km
9.15 am: Trail Ride & Walk
Start Times
8:00 am: 100 km
9:00 am: 50 km
10:00 am: 25 km
10.15 am: Trail Ride
10:30 am : Trail Walk
A light breakfast and BBQ lunch are generously provided with entertainment and prizes handed out after the ride.