You are currently on the:
CMHA National
Visit our provincial websites

Call CMHA Peel Dufferin to get immediate access to a mental health worker
Aug 24, 2022
This page will be updated as information evolves.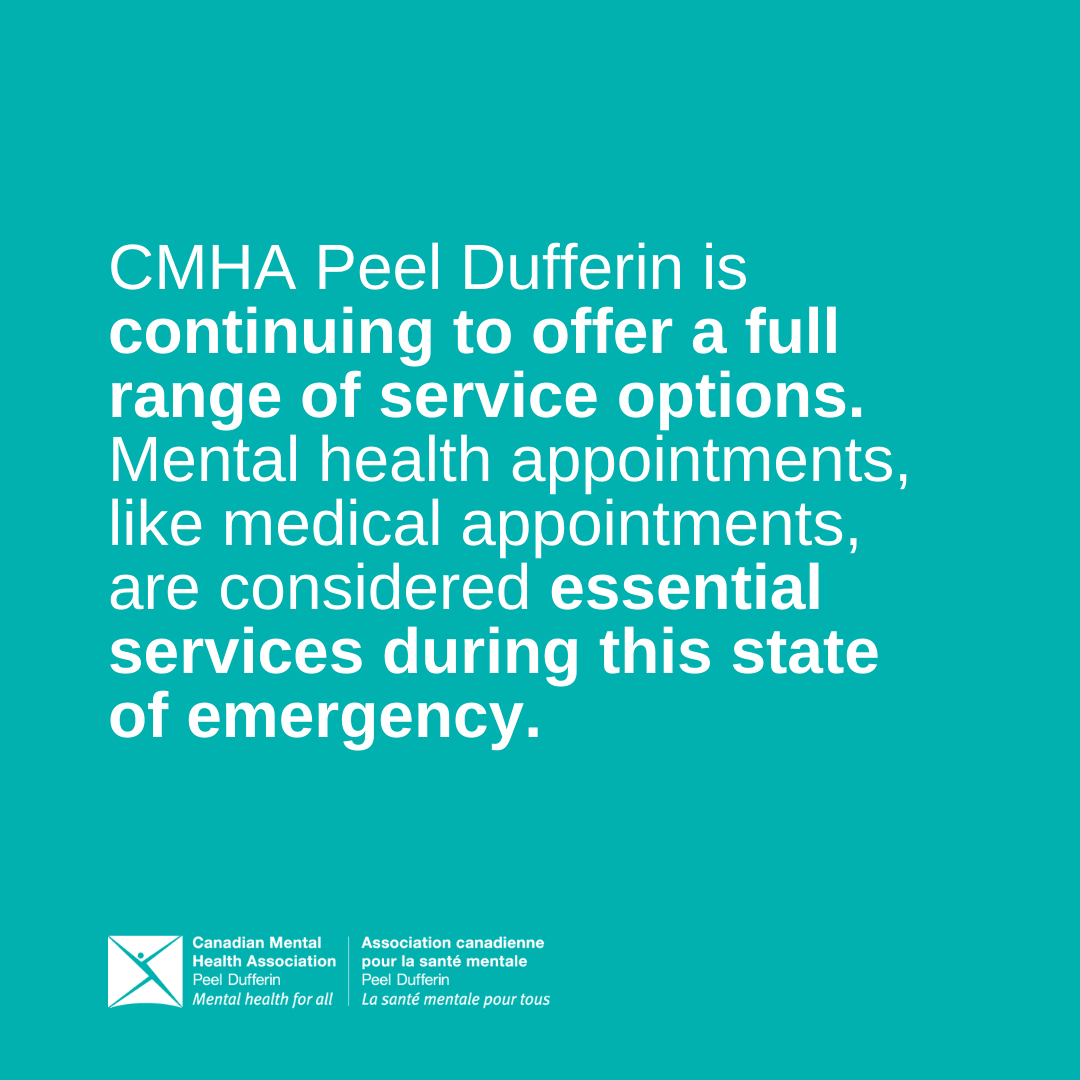 COVID-19 Updates
Mental health and addictions support is identified as an essential service, permitting community organizations to remain open and continue to provide support throughout the COVID-19 pandemic. During these unique times, the need for mental health and addictions support has been rising in our communities.
CMHA Peel Dufferin commits to providing high quality holistic support and services to clients and to the community we serve. We will ensure our services and support are always accessible for our community.
We are currently supporting our clients virtually, by telephone, and in-person with face-to-face meetings. If you require an appointment, please connect with your worker, or call us at 905-451-2123 or 1-877-451-2123 (Caledon & Dufferin) for more information.
Recovery West Programming
Recovery West programs will continue to be primarily "virtual" for the remainder of 2020. We are gradually increasing our ability to offer in-person groups and meet with members at Recovery West – we appreciate your patience with this process. Your safety is important to us so we will continue to follow guidance from Peel Public Health and the Ministry of Health. If you have questions or need help to join virtual, telephone, or in-person supports at Recovery West please speak to your worker. Look for updates and calendars on our website, Instagram, and Facebook. We miss you too – be well!
Primary Workers
If for any reason your primary worker is unable to support you:
Your services will continue with minimal disruption
We will ensure another worker is assigned to support you as quickly as possible
We will strive to ensure our services and support are always accessible to you and our community
Rapid Access Addiction Medicine (RAAM) Clinics
Same day appointments are available pending COVID-19 screening. Please call 905-451-2123, ext. 2 to book an appointment. Walk-in appointments are available at locations shown here. (COVID-19 screening required before visit.)
As always, community members and clients looking for mental health and addictions support can call:
For Services at 905-451-2123 or 1-877-451-2123 (8am to 8pm Monday to Friday)
For Crisis at the 24.7 Crisis Support Peel Dufferin line at 905-278-9036 or 1-888-811-2222 (Caledon & Dufferin) (24 hours a day, 7 days a week)
A team of mental health workers are ready to respond immediately to your mental health needs. We have a range of virtual services including groups, telephone support and, if deemed urgent, a community visit to assist you.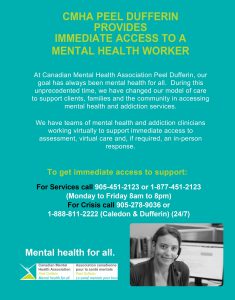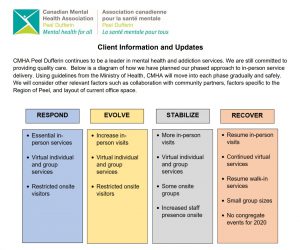 We are here for you (on-site support options)
March 2023 – CMHA PD Groups Calendar