You are currently on the:
CMHA National
Visit our provincial websites
At CMHA Peel Dufferin we value and recognize the contributions of our volunteers.
Please note that the vast majority of Volunteer opportunities at CMHA Peel Dufferin are for individual short term events, e.g. Ride Don't Hide.
CMHA Peel Dufferin thanks you for your interest in volunteering at our organization.
Please keep in mind that only those selected for an interview will be contacted, and that we are unable to respond to phone inquiries. Current volunteer opportunities can be found below.
Available Volunteer Positions:
Volunteers needed for Ride Don't Hide 2023
Please see all opportunities here.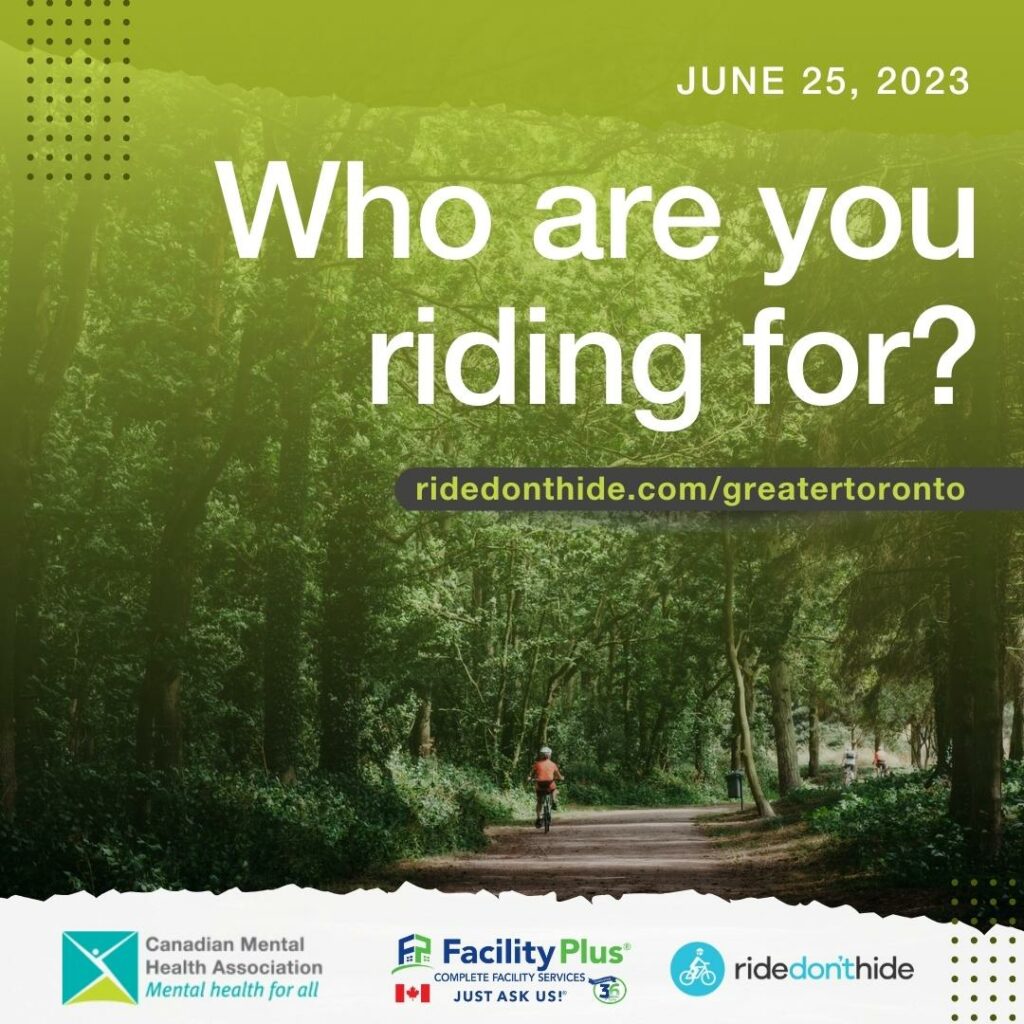 Volunteers needed for CMHA Peel Dufferin Board of Directors

You can make a difference!
Would you like to:
Help enhance the well-being of people in our community?
Make a difference for people living with mental illness?
Promote optimism, equality, and inclusiveness?
Join the Canadian Mental Health Association Peel Dufferin, Board of Directors!
Canadian Mental Health Association Peel Dufferin (CMHA Peel Dufferin) is the leading client-driven, community-based mental health organization serving the Region of Peel and the County of Dufferin. CMHA Peel Dufferin champions good mental health for everyone and supports the full participation of those with mental illness and addictions in the life of the community. In addition to providing a variety of mental health services, we are committed to community development, mental health awareness and addressing the stigma surrounding mental illness. In these challenging times with COVID-19 our work has become even more important to the communities we serve.
We are currently recruiting Directors who are committed to mental health as part of the broader healthcare system. The Board of CMHA Peel Dufferin operates under a results-based governance model, is accountable for achievement of the strategic directions of the organization and for ensuring that its fiduciary "duty of care" is fully exercised.
General competencies required of Board members include the ability to:
Articulate ideas and opinions clearly
Consensus builder
Strategic thinking with a vision to the future
Understand and interpret the organization's by-laws, strategic plan and basic financial and operating statements
We are recruiting for 4 candidates with expertise in one or more of the following areas:
Law / Legal Expertise
Human Resources
Health Care (e.g., family health teams, hospital sector, mental health)
Risk Management
Information Technology
Government Relations
Economic Insecurity (e.g., housing, food insecurity)
Strategic Planning
Change Management
Communications
Community Engagement and Advocacy
Newcomers
To ensure geographical representation, we are particularly interested in candidates that live or work in Caledon, Brampton or Dufferin County.
People who are also consumers or have lived experience with the mental health system and/or family members are particularly encouraged to apply. Terms will begin at the Annual General Meeting in September 2023.
If you would like to be part of our team and help achieve our vision of mentally healthy people in a healthy society, please submit a resume with a cover letter explaining your interest in mental health to executiveoffice@cmhapeel.ca by Saturday, May 13, 2023.
Volunteers needed for CMHA Peel Dufferin Client and Family Advisory Council (CFAC)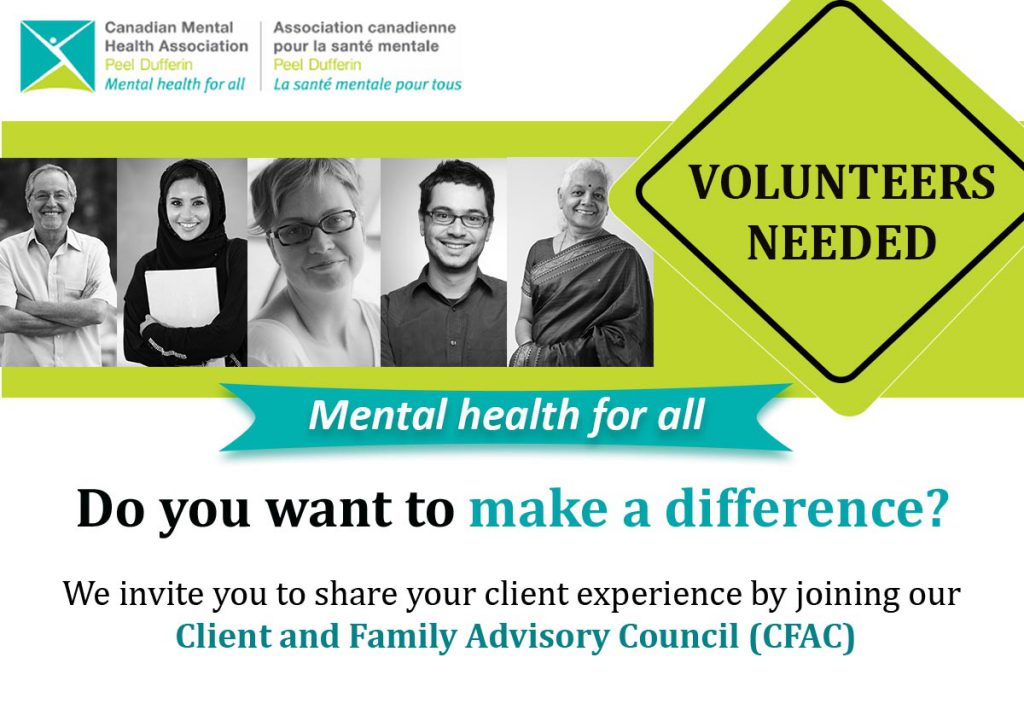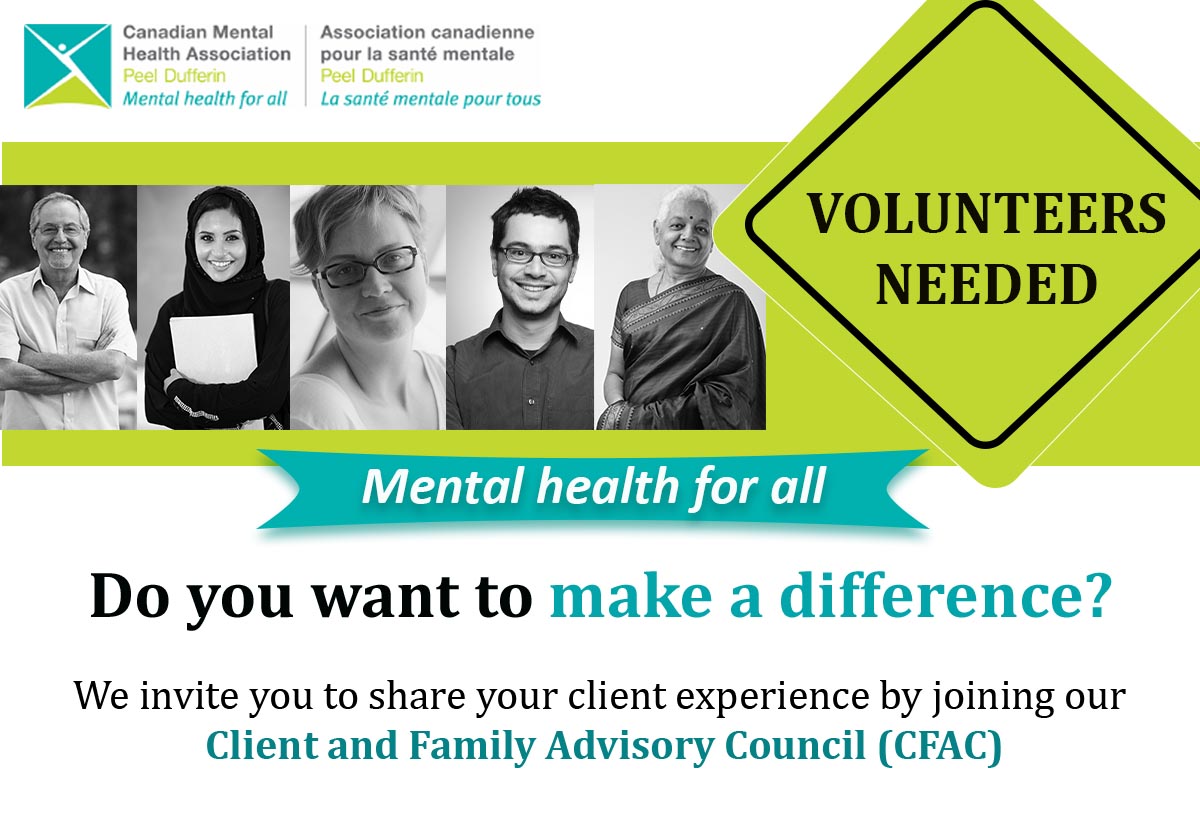 CMHA Peel Dufferin Client and Family Advisory Council (CFAC)