You are currently on the:
CMHA National
Visit our provincial websites
Dialectical Behavioural Therapy
Dec 30, 2021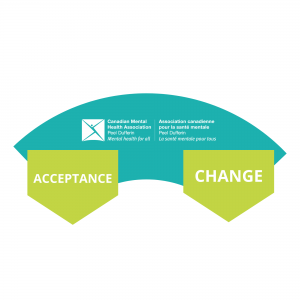 Dialectical Behavioural Therapy (DBT) is an evidence-based structured psychotherapy.  It is different than traditional talk-therapies that are more process-oriented because the emphasis is on behaviour changes to help improve a person's quality of life.  Dialectical means integrating opposites such as acceptance and change, versus one or the other.
Who Could Benefit from DBT?
DBT was originally developed to treat chronically suicidal and self-harming individuals diagnosed with borderline personality disorder (BPD), and it is now recognized as the gold standard psychological treatment for this population. In addition, research has shown that it is effective in treating a wide range of other disorders such as substance dependence, depression, and post-traumatic stress disorder.
Goals of DBT:
To decrease life-threatening behaviours (e.g., self-harming behaviour, suicidal thoughts, threats and/or attempts)
To increase personal coping skills
To decrease quality-of-life interfering behaviours (e.g., impulsivity, substance use, emotional outbursts)
What you can expect:
There are four main components of DBT which are:
DBT Skills Training Group is facilitated by a skills therapist in a group format like a class. Tasks are provided for people to practice between group sessions. The purpose is to help people introduce effective and practical skills into their lives, which they can use when they are distressed. These skills are meant to replace other unhealthy and negative behaviours. The class usually meets once per week for 2 hours and it takes 24 weeks to get through the full skills curriculum which is:
Core Mindfulness
Interpersonal Effectiveness
Emotion Regulation
Distress Tolerance
Individual DBT psychotherapy is to help people apply the skills to specific challenges and events in their lives. These sessions provide opportunities for the person and the therapist to come together and discuss their individual goals. Sessions are usually held on a weekly basis for 60 to 90 minutes.
Skills Coaching is provided, as needed, over the telephone to help a person use DBT skills through a stressful situation. The aim is to help a person generalize the skills to their everyday life. Telephone Skills Coaching typically last approximately 10 to 15 minutes.
DBT Consultation Team is for the people who provide DBT. The purpose is to help therapist and Skills Group facilitators stay motivated, competent and adhere to the fidelity of treatment protocols so they can provide the best treatment possible. They also help one another to manage burnout and share knowledge.
Our trained DBT clinicians will complete comprehensive assessments with you to determine what aspect of this intensive treatment is right for you.
Eligibility Criteria:
18 years and older living in Brampton, Bramalea, North Etobicoke, West Woodbridge or Malton
Experiencing difficulties regulating emotions
Impulsive behaviours
Recurring suicidal thoughts or behaviours
Frequent mood swings
High interpersonal conflict
Difficulty with relationships including with professionals
DBT is not recommended if:
You are actively suicidal, homicidal or in need of crisis stabilization
You are experiencing active psychosis which impacts functioning for which a different treatment is recommended
You have a cognitive impairment which impacts insight and capacity for new learning
If you are between the ages of 14 and 17 and think DBT may be right for you, please contact associated Youth Services of Peel at 905-890-5222 to learn more about their DBT program for youth.
Referral Process
If you are interested in DBT please call our main line at 905 451-2123 or 1-877-451-2123 where our DBT Team will review your referral, complete subsequent assessments, and determine if this intensive treatment is right for you.
Service Providers can send a completed registration form found on our website or can download PDF from that page and email it to intake@cmhapeel.ca.